Ballast Water Treatment based on UV-Technology

Cathelco Evolution BWT system
The Cathelco Evolution BWT system is based a combination of filtration and UV technology. It operates effectively in marine, brackish and fresh water as well as being able to cope with the challenging water conditions found in harbours and estuaries. The system is currently being tested to the U.S. Coast Guard 'live/dead' stand with results expected by the end of 2017.
Equipped with a UV-T feedback loop for accurate dosage and power savings in changing water conditions.
Cathelco are the only manufacturer to supply a UVT system as standard.
Operates effectively in marine, brackish and fresh water.
Capacities from 34m3/hr to 1,500m3/hr in a single unit.
Available skid mounted or in modular form for easy installation on newbuilds and retrofits.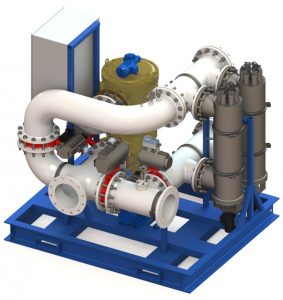 Saving power through precise adjustment to different water qualities
A key advantage of the Evolution BWT system is that it can respond rapidly to changing water conditions with different levels of sediment. This is vital to the effectiveness of the system, but also has important implications in terms of the most economical use of power. To achieve this, the UV-T sensor measures the light transmittance through a sample of seawater taken after the filter, but before it reaches the UV chambers. This is measured at the same wavelength (UVC 254 nm) as the biocidal light emitted by the UV lamps. From this data, the automation unit control unit calculates the correct UV dosage. In this way, the output to the lamps is continuously optimised, ensuring the correct level of irradiation and economising on power through the use of stepless power control.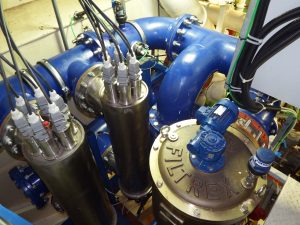 Falck Formco A/S
Automatikvej 1, 3rd Floor
2860 Søborg – Denmark
Corp.reg.no.: 13335001
Shipserv ID: 58627